My 1st haul post nail TBH I'm not a person to spend a fortune on themselves, rather I spend on basics i.e. MAC blusher but not on things I won't really use that often bronzer for my car dash. This is my first attempt at a haul post so please excuse the crap descriptions
MAC propalatte, MAC blusher, Collection 2000 bronzer, Accessorize eye shadows and MUA nail varnish.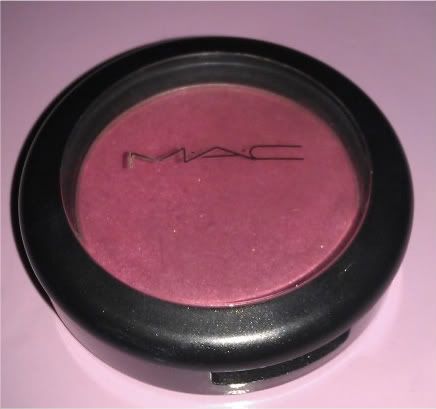 Mac Blusher in Dollymix (£17.50) I'm in love with this it's just the right shade of Barbie pink without being so pigments it looks like face paint, yet still allowing a nice colour to be built up.
It's my new favourite go to blusher after just a week of use. However one thing I will say which is in no way a reflection of the actual product, rather its packaging after only 3 days in my make up bag the MAC writing is rubbing off fast and looking a bit scruffy.
The second Mac item is the 4pan pro palette (£6.50) and eye shadow (£10 sorry don't know what shade). I've been looking at the pro palettes for a while now, mainly as I always find normal palettes collecting dust at the bottom of my collection with one or two shades left.
Just need to fill it with all my favourites now whooot! I'm yet to really give this a road test so will have to see on its staying power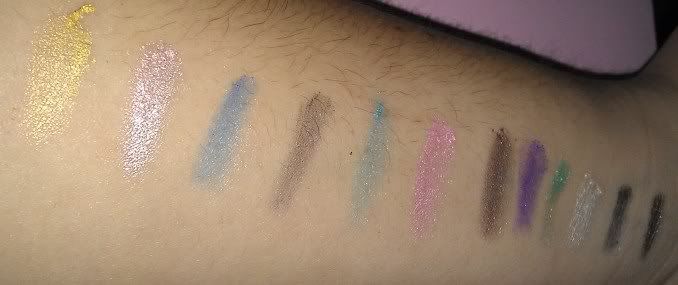 To stay on eye shadows I picked up the accessorize palette along with eyelashes and lip gloss in a Christmas gift set from boots (£3). It's a nice little set which is easy to apply, highly pigmented but I have noticed the staying power isn't great (3hour uni lab and it was nearly all gone) but for the price who cares.
Collection 2000 Shimmer bronzer in shade 5 Sunkissed (£4.20), I have really oily two tone skin so having a spare bronzer in the car for when I forget my make up bag is a must have. However with a soft top car and things getting nicked it also must be cheap which this does the job great at only £4.20. The staying power is surprisingly good lasting all day with minimal touch ups. The pigments is as you expect on a bronzer soft yet build able.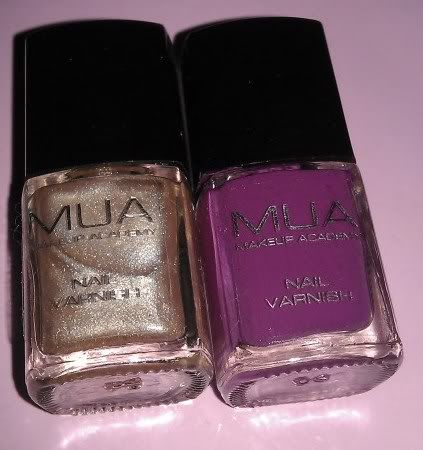 Finally MUA Nail varnishes (£1 each) in shade 3-pink and shade 10-pearl. This is the only product I'm disappointed in, I only picked them up randomly when paying for some other bits and glad they were really cheap. I've yet to try the pearl colour but after the state of the pink I don't think I'm going to bother. One day of lectures has resulted in the polish looking like I haven't bothered to paint my nails all week the tip wear is just something else, add that to the fact it takes three coats to get decent coverage and you have something that is worse than colouring your nails with felt tip as a kid. The only positive I can say is they do glide on and dry quickly maybe something for the kid sisters dressing up box.
So there we have it my 1st attempt at a haul post, I would appreciate you feedback.