1. What's your favourite nail polish company?
Revlon or BarryM, personally it's more about the colour than the brand for me. I can normally be found with a mixture of brands currently in love with Revlon as a base colour and BarryM for special effects.
2. Glitter or no glitter?
Glitter all the way to the point I've used all my models own discos mix which is a 1st for me. (As you can tell from my collection below)
3. OPI, China Glaze, or Essie?
Chine Glaze as personally I'm not a fan of OPI (shock when I'm trying to be a beauty blogger)
4. When do you change your nail polish?
5. What's your favourite colour on your nails?
Bright pink with disco mix over the top
6. Darks or Bright?
7. What are you wearing on your nails right this moment?
Revlon 190 strawberry electric
8. Matte Nails--In or Out?
Out I even put top coat over BarryM crackle I hate matt that much
9. French Manicure?
Done with acrylics I love it, using nail paint just looks tacky to me
10. Favourite Winter Colour?
Gold with a black crackle polish over the top to give a leopard like print
My collection of branded nail varnishes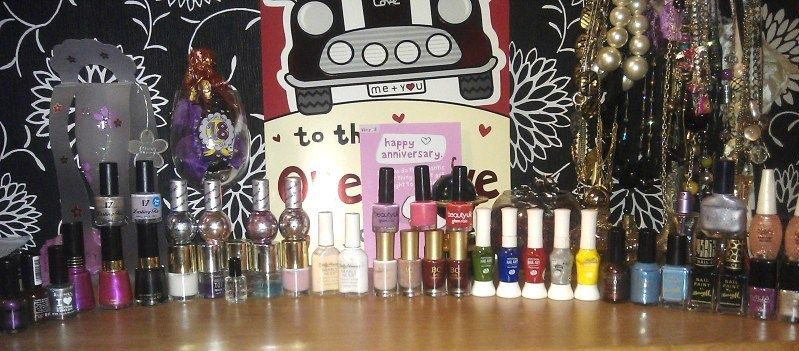 None branded (These are all off a little barrow in metro centre and cost a maximum of £2)
Nice and tidy